Explainer video production that shows without limits what brands can do for their customers created with deep understanding of Dubai and Abu Dhabi business culture!

Why More Businesses In the UAE Use Explainer Videos in Marketing & Sales?
Before we get into the tremendous ways they can help your business grow, let's first talk about what are explainer videos?
They are short animated or live action videos that illustrate complex ideas in an easy, engaging and meaningful way. They explain your company's product or service in a way that resonates with your viewers' pain points. As well as representing your product as the best solution to their problems.
Businesses that use engaging and professionally made explainer videos on their websites and marketing campaigns, generate leads, expand awareness and increase conversion rates. As a result, hugely increasing their sales.
Learn more about The Best Practices for Video Marketing
What is EMS (electrical muscle stimulation) | Animation Video Production in Dubai
Animation Video Production in Dubai Explaining the EMS Fitness Technology in 2D Animation. Animated Explainer Video Production Made by Doleep Studios for EMS Fitness - Body Time
67 Minutes The Tine Consumers Spend On Average Watching Branded Video Content Online, Daily.
Source: Zenith's Online Video Forecast Report 2018​
Have a solution to your audience's problem? Show it to them with an epic explainer video!
Sometimes an easy, quick and exciting explainer video is all your customers need to understand how your product or service can, in fact, solve their problems.
The key to the success of your explainer video is clever delivery of complex information in an easy manner. 
Next, your explainer video needs to shape an immersive experience that grabs the viewer attention during the entire video.
Finally, the video needs to have a clear and simple call to action in order to driver marketing and sales results. 
Another reason why you need explainer videos is that Google rewards websites where visitors spend more time. So if you have an interesting video on your website, your customers will spend more time watching them as a result. So not only do videos enhance your sales but also effectively grow your business as you rank higher on Google. Hence, expand your reach.

We create captivating explainer videos that inspire your audiences to take action, ultimately helping you grow your sales.
What is EMS fitness trial sessions? | Explainer Live Action Video Production in Abu Dhabi
Live action explainer video production explaining the process of a customers' 1st EMS training session and its benefits. This video helps gain credibility by showing the EMS training in the actual studio, helps connect with the brand listening to the real trainers.
Why brands in UAE need Live Action explainer videos?
There is a great variety of explainer video production types.  And choosing the most effective one for your company mostly depends on what you are looking to explain, your target audience, service/product offering and your brand's overall marketing strategy. 
Animation, ScreenCast, Typography and Whiteboard explainer videos are the most popular types among businesses in the UAE.
Despite the fact that Live Action explainer videos are proven to generate better engagement, many businesses in the UAE still avoid using them wrongly assuming that such videos require long production time and high budget. We have managed to develop a quick and easy explainer video production process that is proven to successfully overcome time and budget constraints. Hence you can stand out in the market with your custom made, Live Action explainer video. After all, a real human doing the explaining helps users forget that they are dealing with a business and feel as if they are asking for an advice from a friend, building more trust and awareness about your company.  
Doleep Studios creates effective explainer videos that deliver complex messages effortlessly respecting your time and budget.
2D animation infographic  explainer video production made by Doleep Studios for CRYOSAVE to educate consumers in Dubai & Abu Dhabi about stem cell banking options
Our tested and proven to work process for an effective explainer video
Creating an explainer video for your business can be a quick and easy process when working with an experienced video production company.
We at Doleep Studios, with the help of our team of creative filmmakers create high quality and engaging videos through a very organized process. Our videos stand out for being highly targeted, relevant and tailored to address your audience's specific needs. Regardless of your niche we have created videos for different industries.
More than an explainer video production company 
At Doleep Studios, we believe in forming collaborative partnerships. Therefore, we craft each video around your marketing goals & audience interests.
Taking the time to understand your business, your goals, and your team
First, we start by getting to know your brand, your objectives and what you want to explain.
Then, we work on developing ideas to best convey your unique message.
Finally, we create a video that speaks to your audience and inspires your viewers
Our explainer videos effectively deliver complex messages that show your audiences solutions to their problems
Create informative and actionable explainer videos that drive results.
Let's achieve more with video together!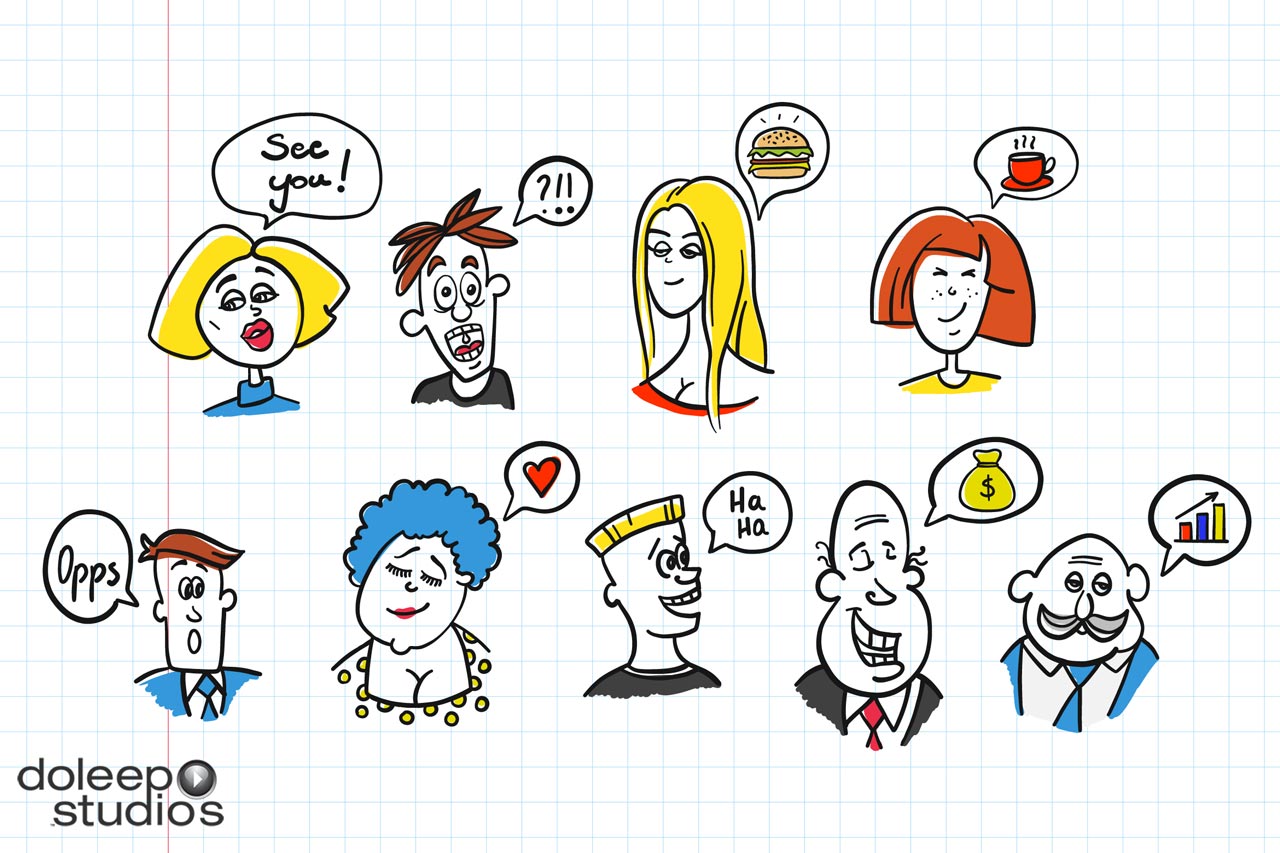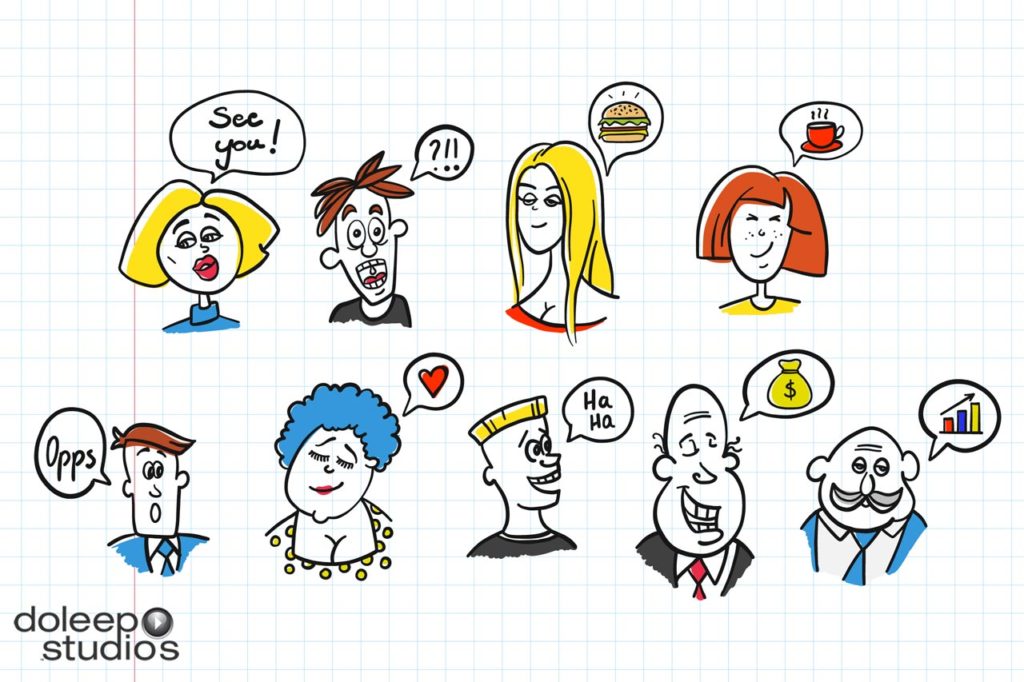 Doodly Characters Explainer Video Scene – Different Customers' Journey Online – Made By Doleep Studios